Tart Optical Enterprises Singapore
OteTart.com  is the Official distributor in Singapore for Tart Optical Enterprises, the source for retro vintage style eyewear. Their vintage-style eyeglasses feature the look made famous by people like Buddy Holly, James Dean, Malcolm X, JFK, FDR, and in more recent times, Johnny Depp and Jeff Goldblum.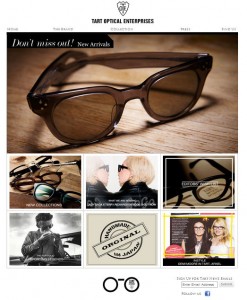 What We Did
Clean minimal design with various image add-ons to showcase Tart Optical Frames such as a full featured animated slideshow on the homepage, lightbox image gallery integration for easy viewing.
Facebook Social Integration for individual Tart Optical Frames.
We performed Search Engine Optimization for Tart Optical's website and obtained first Page Rankings in Google, Bing/Yahoo! for various related keywords requested.
See it for yourself
Visit www.otetart.com