Titan Engineering required a new website to keep in line with their company's growth.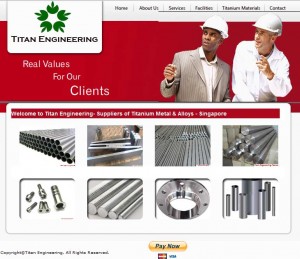 Being a leading titanium supplier in the region, their website is pivotal in their business. Thus, they simply had to break out of the old frames (see their previous website image preview on the right).
We gave them a brand new graphic intensive home page to proudly showcase their products and services at a glance.
However, Titan Engineering's website was expanding fast and needed a change in web design to allow for more content. Thus, we engineered neat 2-Column templates for them to organize their data and plan for future additions.
Aside from our Web Design, we also offered our skills in Search Engine Optimization to carry out a successful site migration from Titan Engineering's old domain name to their current one. With our expertise, their site's search engine page ranking was preserved.
See our Re-Design Work for Titan Engineering