About
GreenPrints.sg  is a green printing corporate website that Green Prints requested us to handle. We handled the design concept and created a beautiful store front for them to showcase their products and services interactively.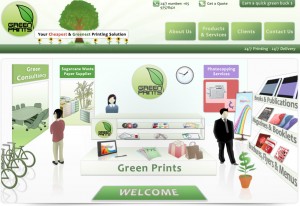 What We Did
A Green Theme was needed to bring out what Green Prints stood for, so we played around with the greens as well as matching vibrant colours for its design. A clean look was also given to the website to highlight its clean and corporate image.
Interactive Store Front
Green Prints had much material to showcase, so we made use of an interactive virtual store front to do just that.
Custom Icon Designs
To showcase their various services and products, we came up with eye-catching icons to represent each and every one of them.
Interactive Image Sliders / Gallery/ Slideshow
In order to handle the large amount of samples, we made effective use of image galleries, sliders and sideshows to represent information visually to their users.
Logo Touch-Up for Web
We did a quick touch-up of their logo for it to match the colours of that Green Theme we had came up for Green Prints.
See it in action
Visit Green Prints' Website